ASQ Section 0511 April 2023 Meeting Announcement
Saturday, 11 AM, 15 April 2023
The Morven Park: Ranger Outing Event
17195 Southern Planter Lane, Leesburg, VA 20176
Event Organized by Carolyn Miller
ASQ Section 0511 Arrangements Chair and Ranger Outings Lead
Short Description:
The April 2023 ASQ Section Meeting is a Ranger Outing Event (as was announced at previous ASQ Section Meetings).
Participating in it will require driving to the location and spending time there comparable in duration to regular ASQ meetings plus meal time if you stay for the networking meal.
There will be no video streaming from this event, so you would have to come in person to participate.
This is an educational event, so it carries an award of 0.5 RU as any other ASQ Section Meeting.
You (and your guest if any) must register and pay here: https://app.memberplanet.com/#/event/asqnorthernvirginiasection/202304-MorvenPark

Note: If you have not successfully paid, your registration is invalid.
The event is based on the tours and facilities offered by Morven Park. The Westmoreland Davis Memorial Foundation (WDMF) was established by Marguerite Davis in honor of her late husband, Westmoreland Davis. It is dedicated to preserving the open space, historic buildings, and unique artifacts of Morven Park. WDMF opened its doors to the public in October 1967, turning 55.5 years before this Ranger Outing.
Website: Morven Park's web site is here: https://www.morvenpark.org/
Location: The location is 17195 Southern Planter Lane, Leesburg, VA 20176, which can be conveniently reached by Route 7 (no toll) or Route 267 (toll) just North of Leesburg.
Exhibition: Morven Park is home to the world-renowned Morven Park International Equestrian Center, the iconic Davis Mansion, and the Morven Park Center for Civic Impact.

Living areas with a lavish entry hall, ornate drawing room, elaborate dining area, grand billiard room, well-stocked library, an expansive kitchen, and charming personal quarters.
The Davises' personal items and extensive collection of arts and antiques acquired during their travels throughout the world.
Visitors can walk through scenic formal gardens, picnic under the boughs of old oak trees, and hike miles of beautiful nature trails.

Tour: The Guide will provide a 45-minute guided experience through the first and second floors of the Mansion.

We will hear stories of the civic and social lives of former Virginia Governor Westmoreland Davis and his wife, Marguerite, during the first half of the 20th century.

Ranger: The main events of ASQ Section 0511 Ranger Outings are guided. We will have a Guide dedicated to our tour and provided by the Westmoreland Davis Memorial Foundation (WDMF).
ASQ has removed its former restrictions on in-person events except for the expectation that participants will follow local guidance.
The Morven Park website does not note any mask or vaccination requirements.

However, we did have occasions in the past where we were told that masks would not be required yet the location required a mask.
Thus, perhaps plan on having a mask in your pocket just in case. We will follow the guidance of our tour at the time of the tour.

ASQ does not require signing waivers, so, you will not be asked to sign one, either.
Thus, by participating, you have agreed that this is acceptable to you.
Program Content:
The ASQ Section Event will consist of the following:
Optionally, reviewing Morven Park's preparatory materials before you go to this Ranger Outing (see described below).
Participating in the ASQ Morven Park group tour.
Optionally, attending the catered ASQ Networking Meal on the Morven Park grounds (see described below and on the Registration Page).
Optionally, staying for additional post-meal activities (see described below).
The Morven Park Tour, Networking Meal, and Additional-Activity Schedule:
10:30 a.m. – 10:50 a.m. – Arrival, registration, and ticketing at or in the Davis Mansion Visitor Center.

Allow 15 minutes for a walk from the Main Visitor Parking Lot to the Mansion.
Meet Carolyn or her delegate or ask for reservation by Carolyn Miller and ASQ.
Carolyn is expected to meet you wearing the ASQ Sash.
The site's driving and parking directions are here: https://www.morvenpark.org/mansion/visit/
Review the detailed map so that you know how to find your way here: https://www.morvenpark.org/mansion/visit/maps.html

#1 Visitor Center Lot is where you will park.
#6 Davis Mansion is where you need to walk to.

11:00 a.m. – 11:45 a.m. – Tour of the Davis Mansion, personally led by knowledgeable Guide who will highlight the features of the Davis Mansion and answer questions.

Our assigned Docent will provide a 45-minute guided experience through the first and second floors of the mansion.
The tour will start on time and will NOT wait for late arrivals.
Participation in Guided Tour is required for .5 RU.
The Davis Mansion Tour is inside the building. Otherwise, this Ranger Outing is intended as an outside experience (as we do in the Spring and Fall), including the walk to the Mansion, the meal, and the optional activities. Dress accordingly.

11:45 a.m. – 12:00 p.m. – A short walk to our Networking Meal location.

The meal will be at the outside Picnic Tables. If you attended the Spring 2022 Paradise Springs Winery Ranger Outing in May 2022, then you know how this will look.
If you lose the group at the end of the tour, just proceed to the Picnic Area.

12:00 p.m. – 1:00 p.m. – ASQ Section 0511 Networking Meal.

ASQ Section 0511 will arrange a FREE meal from a traditional provider (such as Panera Bread, Subway, or other, details are being finalized and not available at the time of this writing).
A regular and a vegetarian option are available on the Registration Page.
Participation in Networking Lunch is NOT required for .5 RU. However, you will not receive the meal portion of your reimbursement if you do not attend the lunch.
Note: The ASQ lunch is for the purposes of networking. This is why no to-go option shall be provided at the Section's Ranger Outing events.

1:00 p.m. – Optional tours after the meal include:

Self-guided tour of Grounds and Garden.
Self-guided Ridge Top Trail walk (Distance: 1.3 miles, elevation gain: 232 ft.)

Read the description of the trail in advance and assure you have proper shoes.

One or more of the additional three (3) guided tours offered by Morven Park, each with a group size of 12-16 people:

The Nooks and Crannies tour
Reading the Stones tour
Discovering Treasures tour

Important Note about Additional Guided Tours: If you are interested in an additional guided tour, you have the following options:

You can register on this Ranger Outing's Registration Page for an additional tour. This is a best-effort registration, namely, the Section will attempt to book the tour that is best aligned with the Networking Lunch for an additional $10 (the cost of additional tours). If there is no tour well aligned with the Networking Meal, the Section will inform you of this as soon as this is known and will reimburse the additional $10 you paid for it. See this Ranger Outing's Registration Page for details.
Alternatively, you can book additional tours, if any available, on Morven Park's website yourself for the time convenient for you.
See the maps of the area: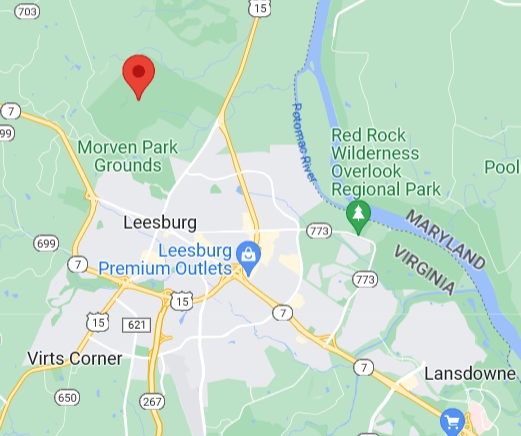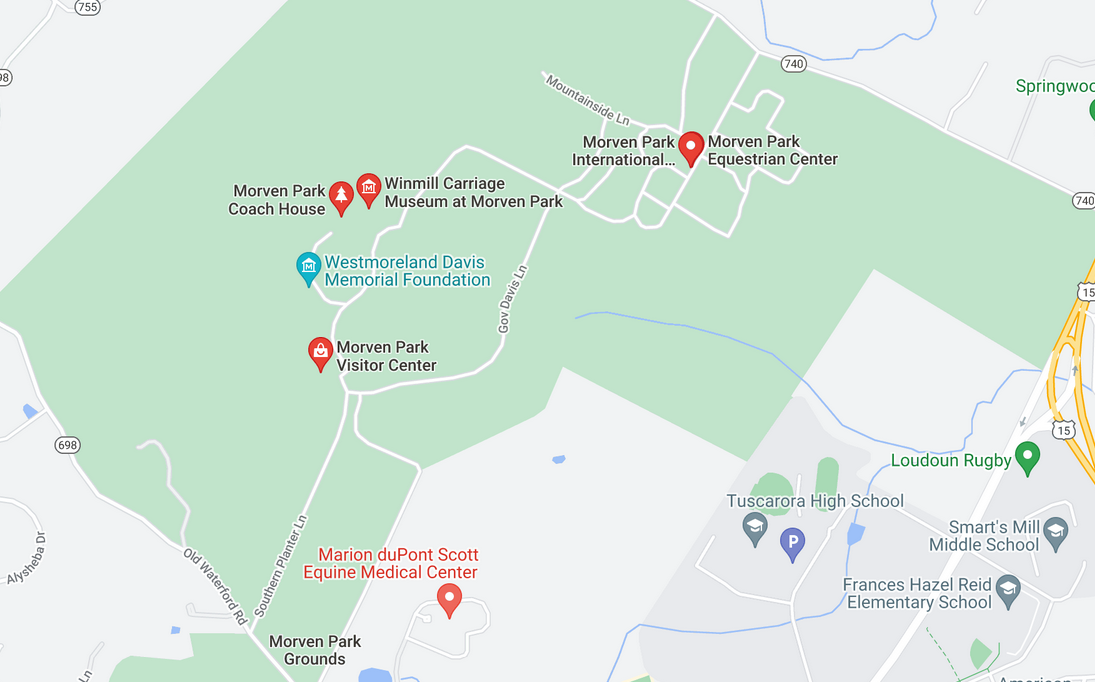 Optional Preparatory Review of the Morven Center materials:
Optionally, review the Morven Park website to build expectations of what you will see.

Do this on your own before you arrive to this event's location.

Watch the following videos:
Review the following web pages provided by Morven Park:
Carpooling:
The registration form allows you to indicate your interest in carpooling, including your interest in receiving a ride, providing a ride, or both (in which case you will be asked to receive or provide a ride depending on other registrants' preferences).
The April 2023 Event is local and likely not a long drive for many participants. However, you may prefer to carpool for any of a number of reasons.
Consider compensating your driver in cash – see suggestions on the Registration Form.
Note: Since ASQ has dropped all restrictions on in-person meetings, you cannot expect or demand your ride share to wear or not to wear a mask or perform any other precautions. If you agree to a ride share at the time of registration, then that means that this is acceptable to you.
Notes on the Program:
Carolyn Miller (Ranger Outings Lead) or her designated volunteers will meet you at or in the Davis Mansion Visitor Center at 10:30 a.m. – 10:50 a.m. and will assist you with your registration and ticketing.
Please arrive to the registration site in advance, preferably at 10:30 a.m. Also allow 15 minutes for a walk from the parking lot to the Visitor Center. We need to complete all registrations and ticketing by 10:50 a.m. and proceed to the tour at 11:00 a.m. Please be mindful of the fact that you are not the only person arriving.
Overall, the Grounds and Gardens of Morven Park are open 7:00 a.m. to 6:00 p.m.
Registration and Reimbursable Payment:
This event requires registration and reimbursable payment for you to participate:
You need to register every person who will attend, be it you or your guest.

This is because the Section will arrange the tour and purchase the meals.
If you bring a guest (who is expected to be paid and given a ride by you), please register such a guest on the same form as your own registration.
If you do not register a guest but later decide that you want to bring a guest after all, then have your guest register separately – just indicate that you are not interested in carpooling (as you will drive).
This registration does not impose a count limit on attendees, but the Standard Registration will close on Friday April 7, 2023 @ 5:00 PM.
An Extended Registration will continue after that until Monday April 10, 2023 @ 12:00 PM NOON with a non-reimbursable $5 surcharge and no carpooling option, after which time no registration will be accepted.

Registration must be accompanied by payment that will be reimbursed if you come to participate:

You need to pay $20 online for registering each person, be it you or your guest.
You will need to pay additionally $10 if you are interested in participating in an additional guided tour after the meal (if one is available).
Any ASQ Section 0511 Member in PAID status WHO SHOWS UP for this Ranger Outing will be REIMBURSED the $10 after the event to the same card used during the online registration.
Any other registered person WHO SHOWS UP but is NOT in PAID ASQ Section 0511 status will be REIMBURSED $5.
Anyone who participates in the Networking Lunch will be additionally REIMBURSED $10.
The registration for the additional tour is a best-effort registration on the part of the Section. If it turns out that the Section cannot book a suitable tour, you will be reimbursed the $10 you paid for it.
Parking is free.

You (and your guest if any) must register and pay here: https://app.memberplanet.com/#/event/asqnorthernvirginiasection/202304-MorvenPark

Note: If you have not successfully paid, your registration is invalid.
Anyone NOT registered WHO SHOWS UP for this ASQ event (for example, as a guest of someone who has registered) will be accommodated only if there is an ability to do so.
No guarantees of such accommodation should be expected; thus, it is important that you register both yourself and your guest.
Overall, you can attend a different Morven Park tour, but you will have to arrange ticketing yourself, and it will be a tour not associated with this ASQ Section 0511 Ranger Outing event.
Event Leader Background:
Carolyn Miller is a Senior Analyst in charge of Exam Compliance, Internal Audits, and Risk Management at Association of International Certified Professional Accountants (AICPA) and Chartered Institute of Management Accountants (CIMA). She is also an ASQ Certified Quality Auditor (CQA).
Her experience includes the fields of compliance, quality assurance, R&D, regulatory, marketing, and sales. In her work, she applies operating principles within a lean, six sigma driven organization and uses her knowledge and background of risk management and due diligence. She is a published author of a revenue-generating QA policy manual for community pharmacies.
Carolyn has been the ASQ Section 0511 Arrangements Chair since 2015. She has also assumed the responsibilities of the Ranger Outings Lead since our September 2021 Ranger Outing at Mount Vernon and has led multiple Ranger Outings since then. If you have been to the Section's restaurant events during these years or have come to our Ranger Outings, you have used the results of her generous volunteer service!
Section Leadership Committee Meeting Information:
Wednesday, Apil 12th, 2023 at 6:00 pm EST
Joining by a direct link:
Meeting link:
https://asq.webex.com/asq/j.php?MTID=mf1edec1b32ba1fbd0402e959a365ffba
Joining by meeting information (requires entering the password):
Web address:
https://asq.webex.com/asq
Meeting number: 2551 557 3371
Password: FVcQFA8bx63
Joining by phone (you will have to identify yourself by name when you have joined):
Phone number: 1-408-792-6300 Call-in number (US/Canada)
Access code: 2551 557 3371 -->
Next Meeting:
Member Meeting on 10 May 2023, topic TBD
About Us:
ASQ Section 0511 is a geographic community in Northern Virginia that lives intertwined with the network of ASQ Divisions and technical communities specializing in specific quality domains and supporting ASQ Certifications in their domains. Its members have tremendous cumulative experience across multiple industries, companies, and government agencies. Any single one of you in our ASQ Section is a formidable source of takes, opinions, and lessons on a number of Quality Matters.
-------------------------------------------------------